Did I mention we are experiencing a brutal winter? LOl! All I can do is laugh about it. It will make me appreciate the warm days of summer, grilling outdoors, cold icy drinks…..Oh! Sorry, I was day dreaming again. And after my 28th winter here in central New York, this California girl has adapted very well. When it comes to low and slow cooking, braising is the way to go. I have been fortunate enough to have a new market open in our area with a wide selection of meats. In my area, two hard to find cuts are the skirt and the flank steak and I was very happy to see that this new market stocks it pretty regular.
Sure looks pretty from inside my warm house!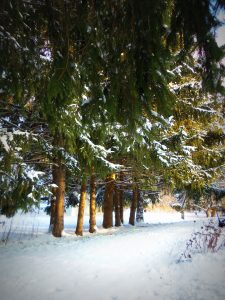 And with winter comes all of the wonderful soups and slow cooking guisados that fill the house with wonderful aromas…. This recipe for Braised Skirt Steak in a Spicy Tomato-Red Wine Sauce is just what the doctor ordered for for the -28 wind chills we are experiencing this winter.
Ingredients
2 1/2 pounds skirt steak, sliced into 2 inch pieces
1 teaspoon salt, plus more for sauce
1 teaspoon pepper, plus more for sauce
1 teaspoon garlic powder
4 tablespoons olive oil
For Sauce
28 ounce can whole tomatoes
1 cup red wine (cabernet)
1 1/2 cups beef broth
2 chipotle peppers in adobo
3 cloves garlic, sliced
1 tablespoon chile ancho powder
1 teaspoon chile pasilla powder or 1/2 teaspoon cayenne
1 1/2 tablespoons mexican oregano
1/2 tablespoon dried thyme
You will also need
1 large white onion, sliced into strips
2 bay leaves
2 whole cloves, optional
*4 cups of cooked rice (add 1 cup jasmine rice to salted boiling water, reduce heat, cover and cook for 18 to 20 minutes. Before serving, squeeze fresh lemon juice in and add fresh cilantro. Fluff with fork) 
Juice of 1 lemon
1/3 cup chopped cilantro
1/3 cup diced onions
warm corn or flour tortillas
1. Season the sliced meat with salt, pepper and garlic powder. In a large oven proof dutch oven pot, preheat 4 tablespoons of olive oil at medium heat for 3 minutes.
2. While the oil is heating, in the blender combine all of the ingredients for the sauce. Blend until smooth, set aside. Preheat oven to 350 degrees F.
3. Sear the skirt steak for 3 minutes per side and transfer onto plate. In that same pot, add the sauce from the blender. Use a spoon to scrape up all the bits from the bottom. Cook the sauce for 10 minutes, taste for salt.
4. Add the beef back into the pot with sauce, top with onions, add bay leaves and whole cloves. Cover and braise in the oven for 2 hours or until beef if tender. Let stand for 15 minutes before serving. Serve over  lemon cilantro rice, garnish with  more cilantro and diced onions. Serve with  warm tortillas. Yields up to 6 servings.